Retooling


01/01/2023. Not everything, just a few bits. Recall that I destroyed the LXD-55 equatorial, my grab and go mount, some weeks ago through an unfortunate application of gravity. An inventory misadventure where B&H Photo advertised a CGEM-II mount head but shipped a tripod and counterweight instead followed. Then came an (ongoing) Astromart experience with Parcel Select in the midst of the Christmas rush and a weather emergency which ought to end in the delivery of a tracking platform capable of outperforming the LXD-55 for light loads and be far more haulable.

On the assumption, and it is still an assumption, that the SkyWatcher Star Adventurer now finding its way through the Greensboro USPS distribution center will not be happy to carry the (heavy) TMB92SS, I went looking for a lighter, smaller optic of similar focal length. It turns out that Opteka / Samyang / Rokinon make a 500mm F6.3 mirror lens. F6.3 is about midway in speed between the vintage Nikkor 500mm F5 and F8 lenses which are, respectively, several times and a few times more expensive on the used market. There are some dreadful mirror lenses out there, but the good ones are, in fact, pretty good, for jobs where the design limitations (fixed aperture, bizarre bokeh) are not important. The Rokinon seemed worth a try since it's a modern, current production lens, and other optics carrying its brand perform very well under the night sky. It's not too soon to consider the kit that will go to the 2024 eclipse, and I'd rather not subject the TMB92SS to airline travel until the carriers get their acts back together. So it seems prudent to get to know this fellow which provides the same image scale (though 2-stops slower), fits in a coat pocket, is a third the weight, and is not my favorite, never-to-be-put-at-risk optic. B&H offered a used 500mm F6.3 in Rokinon black with a Nikon mount for $99. (Yes, I need a Canon R mount, but I have a Nikon F to Canon R converter in hand, and the Rokinon is really a T-mount lens, so I can change the bayonet for ten bucks if it needs a home on an EOS or M body.)

First takes. It is light and it is small. I can cobble up a fine-focus attachment if needed, and attach that via some as-yet-unspecified shenanigans involving the arca plate on the camera. It does not have tripod shoe of its own (!) which may or may not be a problem (did I mention that it is light?). I'm toying with ways to make or adapt one. A quick look at the mesh in a stretched piece of fabric normal to the optical axis and about 50 feet away suggested that the lens is usefully sharp. It's just possible that I'll be able to get 5- or 10-second exposures with it on the Purus to feed to CCD Inspector and see how things really shape up at the focal plane. At worst, I'll find a way to shoehorn it onto the A-P rig long enough to get samples. It will need a lens hood for all the usual reasons as well as to provide a flue to which a dew heater could attach (that front corrector could save your life in a dry campsite; it looks as if it might condense gallons of water every night). I can foresee some sort of focus clamp (or some decent tape) in its future, too. All in good time.

When I walked the dog, I shot the Moon. Daylight, handheld 1/4000 second images are encouraging. I'll wait for a tripod-mounted effort at saner ISO to show that off. I think it will do better than my quick experiment might suggest. Looking at the full-frame Moon photo, there is very, very little vignetting across the frame -- as I suppose I should expect from relatively slow glass. Still, some mirror lenses are notorious for center hotspots; this one seems tame in that regard. I vaguely recall that my early Reflex-Nikkor (500, F8) had a pretty vicious one. (I can't remember when I traded or sold that lens, but I know I've never missed it.)

After nightfall, I put the Rokinon on the Purus and aimed at Deneb just above the western trees. An analysis of a stack of six, 6-second exposures is not much to look at but hints that the lens should be focused about halfway toward the edges:
Stars ranged from 5-7 pixels on the R6, which really means little considering what I had to do to get them aligned and stretched. It's clearly worth trying harder; I've ordered the lens hood to keep it dew free while I do. It seemed more plausible up there on the Purus than I expected it to be and leaves little doubt that it will be comfortable on the SWSA (which is what aficionados of the tracking platform believed to be on the way call it). I'll try something more photogenic later this evening.
The Pleiades in the Pines
10x10s, 500mm F6.3 Rokinon Mirror
Canon R6 @ ISO 12,800
Purus Clockwork Tracker
There! I am about to decide that every shortcoming photographers simpliciter cite with respect to mirror lenses is moot in astrophotography. What's a C11 but a 2000mm mirror lens? Likewise, every Mak and Schmidt ever made?
Polar alignment. I'm going to be getting a lot of practice at that soon, evidently. If I get good at that, it's possible that I will become less protective of the perfected alignment of the A-P mount and allow it to fulfill its designed purpose of being a top-shelf portable mount rather than a pier princess.
Future mods. I can already tell that I'm going to end up using a Williams altitude support under the still-missing-in-transit SkyWatcher mount. We'll see how solid the stock item is, but I think the Williams upgrade is elegant and inevitable, especially if the SWSA struts its stuff in a way that invites me to go perfectionist with it. In other words, I might just as well get used to that idea.
Early Onset Eclipse Fever. EOEF is a real problem if you're not backed by a trust fund. I need to be careful to not let it get to me any more than it already has. Picking gear in 2022 with attention to 4 minutes in Texas in 2024 was bad enough. In the first hours of 2023, I suffered a minor flare-up by buying gear expressly intended for totality. I thought, well, the 500mm Rokinon looks like a winner; so maybe I should think about watching out for a good deal on the 300mm, small format version. In Wyoming in 2017, the little EOS-M did a superb job videoing totality behind a 300mm Nikkor. But that's a heavy lens and a relatively bulky one. I want to preserve the ability to carry-on almost my entire kit, and the mount I will have in Texas will inevitably be much less capable than the G11 I had in Wyoming.
At my very first glance on eBay, there was what looked like a screaming bargain: a 300mm Rokinon mirror lens in an EF-M mount for $85 in promised great condition with return priveleges. This lens and that camera are both so tiny as to be essentially weightless. I watched and read reviews for a a couple of days, and it still looked like a screaming bargain. It is not the ED version which is why it's particularly affordable. I've had excellent luck with non-ED glass, though, so while it would be better if it had the more advanced optics, I still have high hopes. it'll be here this week or next. Have I mentioned that there are aftermarket battery packs for the M? Look, just stop it. I've dealt with some real problems in the kit and am well-started on some very worthwhile cross- and upgrades. But just stop it for a few months, OK?
1/04/2023. I almost went cold turkey. Almost. I gave in for a 58mm to 72mm step-up ring to use a 72mm lens hood on the 300mm Rokinon and a third-party Nikon lens collar intended for a 300mm F4 which appears to be the right size to mount the 500mm F6.3 by its F to RF adapter ring (maybe with some lathe work, but I hope and expect not). I really want to get the weight off the R's lens mount and make rotation easy (more when I know more). I'm not sure the hood will matter much to the 300mm (especially when it's aimed straight at the Sun), but by using the oversized one in hand, I can nest the 500's hood, the 300's hood, and the 300 lens itself when packing a carry-on.
The SWSA arrived on 1/3 and it is a lovely piece of gear! Clouds and moonlight for some time to come, though, so, patience. On 1/04, I gave it a try despite a lot of Moon, a good bit of haze, and really casual (not to say totally careless) polar alignment. The results with the 500mm and 10-20s exposures were hit and miss, more miss than hit. A 24x20s shot of the Double Cluster worked out nicely, but similar tries for the Pleiades and the Alpha Persei cluster did not. FWIW, the counterweight bar is 12mm in diameter which is just under 0.5 inches. The bore of the counterweight is also under 0.5 inches but not by much. Anyway, use a 0.5" bit to make new weights from steel stock if needed.
500mm F6.3 Rokinon mirror lens, Canon R6 on SkyWatcher Star Adventurer
24x10s @ ISO 3200
No, you can't enbiggen it. It's big enough.

It was an unfair trial. I need a clear night and some care in aligning everything before saying whether 30s subs with the 500mm is asking too much. FWIW, it looks and feels solid. Focus creeps with this lens, and it is very touchy. I'd like to come up with some kind of fine-focus machinery (a belt, a screw, a micrometer and tangent...). In the meantime, practice lots. Finding focus is only half the game; I'm going to have to get good with tape or cobble up some manner of clamp to hold good focus once found. In short, retooling continues, is promising, but is not easy.
I've verified that my L-bracket fits the R6 beautifully and I have at least some of the pieces needed to let it carry a small guidescope. Perfect focus has a higher priority than guiding, but guiding will inherit my attention after focusing is solved.


01/05. The 300mm is here; it is really tiny, and it is actually an EF mount rather than the listed EF-M which is better for me. I have the adapters to put it on any Canon body I own. It appears to be in great shape. It does have a prominent hot spot. A 58-72mm step-up ring allows the larger hood to fit the 300 just as promised, and it shows no vignetting even with a full-frame sensor.Star trials to come, by and by. Meanwhile, a centered crop of he Moon is pretty good. Here are two moonshots, with the 300mm and 500mm lenses: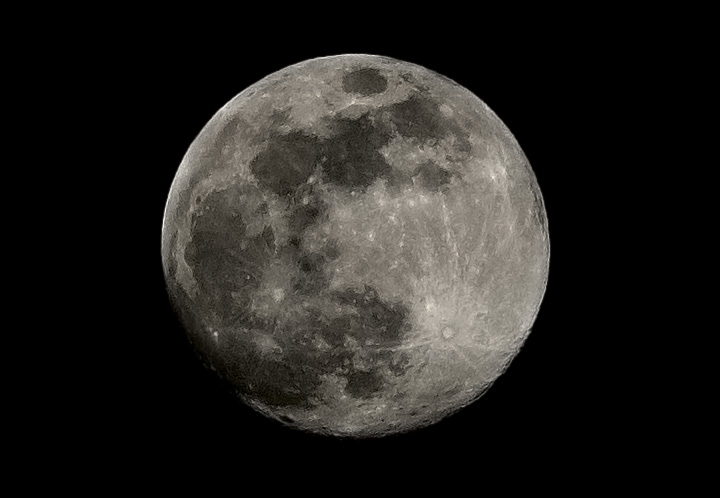 Rokinon 300mm F6.3 Mirror lens, full-sized crop.
1/800s, ISO 320, Canon R6
No clicking -- you have all the pixels right there.

500mm Rokinon F6.3 Mirror lens, full-sized crop.
1/1000s ISO 200 Canon R6
Focus is still a little off (s/w helped).

I tried the Pleiades again, this time with better but still not meticulous polar alignment (find Polaris, put it in the center of the alignment 'scope, call it done). Now I begin to believe this can work once the Moon is out of the way and I am willing to give it time to cook. Focus is marginal; tracking is pretty good (during the alignment step, PixInsight reported drifts of 2-3 pixels relative to a single reference frame).

22x15s, 500mm Rokinon F6.3, ISO 3200
Canon R6 on SkyWatcher Star Adventurer
This one you can click.
With these lenses, finding and keeping good focus is key. I have ideas. Just wait.
1/07/2023. Both RoboFocus and ZWO AEF autofocus systems link computer-controlled motors to the focus rings of manual lenses using timing belts and pulleys. Why not do that manually? A driving pulley locked to a knurled knob should allow fine focus control and lock focus once found. It should work just the same for fingertip control as for computers. The gearing ratio is closely approximated by the diameter of the pulley divided by the diameter of the focus ring, about 1:5 in the case of the 500mm Rokinon, more like 2.5:1 for the 300mm (which doesn't need it nearly as much). I sketched ideas and shopped up parts while watching the Speaker of the House fiasco on C-Span, took some more measurements in the morning, and ordered the key bits off Amazon. Clips to make closed loops out of the generous supply of belt material will be delayed. After thinking about the value of time and worry, I bought two closed 400mm loops and an arca plate/clamp set with which to get this process finished this week. The Amazon product description can't seem to decide if the bore of the pulleys enroute is 5mm or 8mm. If the former, great, they'll be perfect on 10-24 bolts; if the latter, well, epoxy or Superglue or solder or shims will fix all.
I cannot quite decide if this fine-focus rig should be attached to the lens or on the mount. Fiddling anticipated after some or all the parts are in hand.
The lens collar is here, and I was right to be concerned about fit. It's just that whisker too large; I expected that it might be a whisker too small. So I'm experimenting with shims and such. Here's the first try using electrical tape around the Nikon F to Canon RF adapter to add a mm or so to its diameter (that will not be the eventual fix):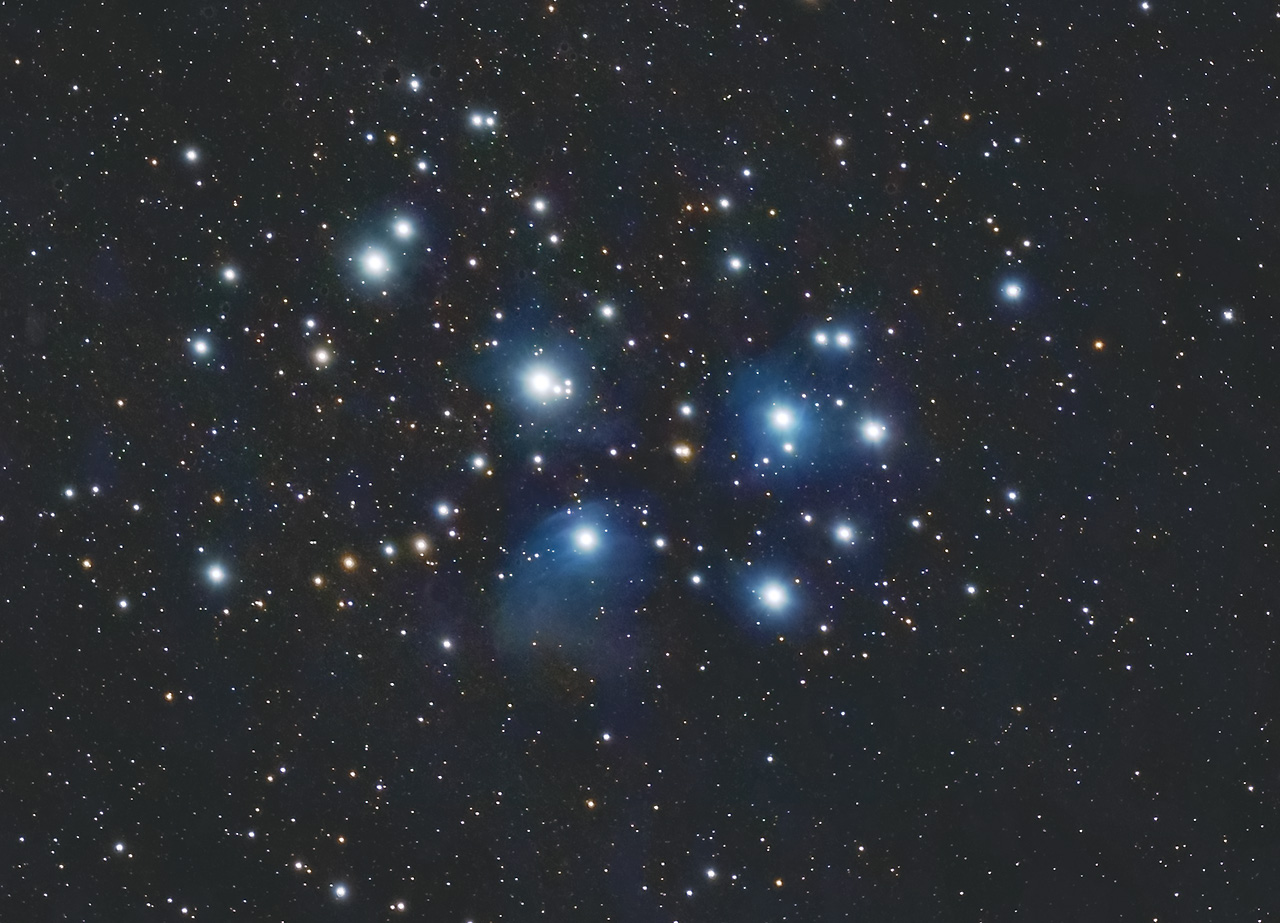 246 x 15s, ISO 3200, cropped significantly
through moonlight and treetops
polaris centered in alignment scope.
Sure, go ahead. Click it.
1/10/2023. I seem to be reinventing FollowFocus accessories made for video and cinema work. Keep that in mind when looking for fittings to deal with things like zooming, focusing, and aperture control. I just discovered "lens bands" to stop zoom creep. I bet they'll also arrest focus creep. Some examples are on the way. Pix soon.
:: top ::