Restoring a
Phoenix Boat Company
Poke Boat Company
Phoenix Isere kayak


In 2019...

The Easypoxy is still holding up really well, but I let some overspray from a deck (as in wooden porch) refinishing project land on it.

After looking in on another refinish project, I'm thinking I may touch it up with some Rustoleum Topside Marine Paint since I can buy that locally. (Or maybe I should just not worry about it and go paddling.)

The hull paint is as solid as the day it dried.
[2004] "First, sand off 14 years of pollen, algae, and assorted u-gag. I took the boat out for 4 miles on Lake Rhodhiss and rediscovered how fast and light the hull is — well worth putting back into service. I built the boat from a kit in 1979 and used it until the spring of 1990 when a NeckyTesla replaced it. The Necky sea kayak was more stable, carried more payload, was infinitely more secure on big water and in heavy weather, and was far better suited to long trips, but for 99% of my paddling, what it mostly was was comparatively heavy, cumbersome, and slow. Even though I sold the Tesla several years ago, the Isere has only collected rainwater and spiders while stacked out behind a garage. Now that we're living beside a lake, no more excuses...
Nevermind all that. Three years after the refinish effort described on this page in 2004, the paint on the top deck was a mess. I tried another paint, but two years after that, that fix was a mess, too. So here's a fresher account of what I hope is the more permanent 2009 restoration [ten years on, still looking good].
In response to my earlier efforts, a helpful web visitor and fellow Phoenix boat enthusiast sent advice from his son who knows from ocean-going yacht maintenance. As for paints that will flex and hold on thin, regularly abused fiberglass:
...the three paints my son recommended are

IMRON (DuPont) 2 parts,
AWLGRIP 2 parts, and
Easypoxy (Pettit Marine Paints) 1 part

All can be sprayed or rolled on with a fine nap roller. My son recommended the latter, because of the chemicals used in the paints. He says it'll do a good job. He also said the Easypoxy is the easiest to apply. I think most colors can be had. Personally I lean towards the bright colors... I want to be seen by all the crazy bass boaters... not that it's any guarantee against anything.
That's for the deck. The hull paint from 2004 (Valspar Indoor / Outdoor dove-grey enamel) has held up beautifully although it is stained and needs to be either cleaned up or overcoated.
Easypoxy is available in many colors in one quart containers from (among others) West Marine, Amazon, and Go2Marine (who provide a color chart). It's not cheap. Pettit's instructions indicate that it can be brushed on.
Let's begin.
We take our first reading, as all fans of small boats must, from The Wind in the Willows, by Kenneth Grahame. Water Rat to Mole, page 7, on that than which there is nothing half so much worth doing. And then we shall commence to messing about.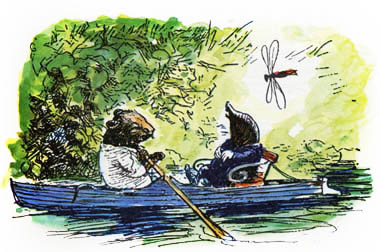 "Believe me, my young friend, there is nothing
– absolutely nothing – half so much worth doing
as simply messing about in boats."

drawing by E. H. Shepherd



August 15, 2009.
I ordered a quart of bright red Easypoxy from West Marin: $42 for the paint, $3 for NC tax, and $9-10 for hazardous materials shipping. A quart should cover 150 sq ft. The Isere deck has at most 25 sq ft, so it's not like I'll run short. This stuff can only be shipped by ground — no airborne hazmats, thank you — so I'll have time to find my sander, brushes, drop cloths, etc. and get psyched up to put them to work by the time the paint arrives. (Why bright red? I thought about using Burgundy for class but opted for easy visibility instead.)
August 22.
West Marine shipped the paint immediately. It's not their fault that the local FedEx Ground depot almost always takes 3-4 tries to find me. Thus it was this time.
September 6.
Then I waited for good weather and for a lull in business deadlines. When I got both, I removed the deck rigging and got started. Almost. My orbital sander had given up the ghost (not exactly; see Sept 21, below, for an explanation). So now I'm waiting for a replacement, and we'll try this again in a few days.
September 9.
A Makita palm sander (tiny and nimble compared to my big retired lug, see top photo way above) arrived today via UPS from Amazon. Storms moved through for much of the morning, but this evening I stepped outside and made a start. With #80 grit on the sander, I turned it on and immediately burned a hole in my boat. No, I didn't, but it could have happened. Be careful. I meant to just try it out, but a few sanding disks and an hour later, as the light faded amongst the pines, I had about 90% of the paint off the foredeck.
It was a loud job. My hands felt the vibes for another half hour. The paint melted away layer by layer. The flaking blue top coat gave way to the cream layer whose disapperance revealed the first two tries (white Krylon), which came off to leave scuffed epoxy over fiberglass cloth. I did my utmost to go that far and no farther. Where the deck is firmly supported and sharply crowned, the sander cuts quickly. Where the deck flexes easily, the paint comes off slowly which encourages me to apply more pressure. Either way, be very careful not to cut into the glass weave.
September 10.
I spent 90 minutes taking the same layercake of old paint off the afterdeck. A few minutes of sanding also smoothied the seam line. I found a bad join that ran for a couple of inches on the right side just behind the bow. It has let in a little water when plunging through waves. This is evidence of abject carelessness on the part of the builder (yours truly). I'll patch it; not that it has made much difference in 30 years on the Missouri, in the Yukon, on the Watauga, on the Holston, on the Catawba, in the Atlantic Ocean, etc. (this boat and I have history). When the Sun comes back to stay a while (day after tomorrow?), it'll be Easypoxy time.
September 11.
I worked some two-part epoxy putty into the gap near the bow. I thought it would cure quickly (like J.B.Weld) and that I could soon sand it down to match the boat's curves. But I only actually RTFM after I mixed and applied it. "Overnight," said the fine manual. "Live and learn," said I. I waited several hours and sanded the patch with #120 grit anyway. It worked out. I'm anxious to start applying this paint, which needs to be done in multiple coats one day apart. So can I get started today?!? Oh, please! No. Pettit warns against painting late in the afternoon when dew may settle on uncured paint. 'N besides, the surface is supposed to be washed first with a solution of 2 cups household ammonia to one gallon of water. Yes, we have no ammonia. I'll buy some from the nearest supermarket tomorrow. I want this to be the last time I paint this boat. I'll do it by the book.
September 12.
I sponged the deck with the recommended ammonia solution. I repeated this a few times (why not?) and hosed it off. The boat dried while Amy and I prepared and ate breakfast. I applied masking tape just below the seam line (nothing critical, I have some 1.25-inch seam tape on the way which will cover many sins). I wadded the rope grap-loops at the bow and stern in aluminum foil to hold them up'n'off the deck.
Then I commenced to painting. The first layer of Easypoxy went on very nicely. I'm brushing it on unthinned using a cheap 2-inch bristle brush. My dry dock is a folding table set up in the backyard in open shade. Brush marks disappear in a few minutes, and coverage over the white fiberglass is exceptional. I used mostly long strokes aligned with the keel-line of the kayak, saying to myself "wet edges, wet edges" the whole time. I left unsanded a broad collar of blue around the cockpit, hoping that when I paint over it, the result will be a slightly darker red accent. Now I suspect the coverage will be so good that the boat will be a uniform bright red. That's fine, too.
The first coat dropped the level of paint in the can by about 3/8 inch. The can is about 4.5 inches in diameter. Call it 6 cubic inches of paint. I spread that over something like 22 square feet of deck. That works out to about a 2 mil coat, which is half the maximum thickness beyond which Pettit warns that improper drying may produce a soft coat. Whatever the exact numbers, the paint thickness is in the ballpark. So far, so good. Clean-up was easy enough using some handy mineral spirits. Tomorrow morning: coat two.
September 13.
Leaving some of the old paint intact was a mistake. Its roughness under the otherwise lovely red was unwelcome. I sanded the deck near the cockpit. The new red paint came off very easily. Alarmingly so, but maybe that's because it was so fresh, or because I applied it over old paint rather than on properly prepared glass, or because (according to the calculations above) it was a little on the thin side. Then I continued sanding until I was down to bare glass around the cockpit. I hosed off the residue and sponged off the standing water. It's in the 50's out there (I consider that cool). Sunny skies and highs in the 80's are forecast. In lieu of sanding between coats with a fine grade of paper (which I have not got), I dulled the first coat with steel wool. At noon, the temperature was 75°F and headed higher quickly. I slathered on a second coat. If you stare into EasyPoxy bright red too long, it begins to go kind of orangey -- eye fatigue and afterimages, I think. The second coat is at leat 50% heavier than the first. A third coat tomorrow?
I painted with the boat in direct sunlight this time. That made "wet edges" much harder to maintain. For some reason, the paint had a slight tendancy to "bead" as it thinned out toward the end of a stroke. Why? And, more importantly, does that behavior foreshadow trouble with the bond?
September 14.
As of 11:30 this morning, the third (and probably final) coat is on. It's 78°F headed for middle 80's again. Lots of Sun. After roughing the second coat with steel wool, I rinsed the boat with plain water on the off chance that some kind of detergent was built into the wool. I didn't see much difference in the way the third coat went on, so all is likely OK with the previous coat as well. I took particular care to maintain wet edges to make #3 a pretty coat.
Later today, I'll move the boat out of dew's reach, but it can bake in the Sun for a while first. Next (tomorrow?): a fresh dusting of Valspar dove grey for the hull, then seam tape (whenever it arrives), and then down to the water. I'll leave the rigging off for a while, let the paint cure, apply some wax, and see what happens.
What happened is this: tonight I see runs and puddles of paint in the third coat. When I shop up the hull paint tomorrow, I'll also pick up some fine sandpaper and make a concerted effort to put ANOTHER coat on without goobers. Lighter, smoother, just so. That'll give me one more chance to get a clean(ish) line between hull and deck that I can cover with seam tape. Surely even I can paint inside the lines when the lines are over an inch wide. Weather tomorrow looks good.
September 15.
Allow me to testify that with Easypoxy, thinner is better. I sanded with #220 paper wrapped around a sponge which served as a sanding block. I sanded pretty vigorously to level drips, runs, puddles in that too-thick 3rd coat. Some actually seamed a little soft, so "too thick" does equal "too soft." I rinsed the boat and allowed it to dry and heat in the Sun for half an hour. Then I reached for the paint. With a thoroughly roughed surface, I concentrated on keeping edges wet and the coat thin. I just barely dipped the brush into the paint, dabbed it on and then spread, spread, spread using light strokes. I used only the last inch or less of the bristles. A little goes a very long way; EasyPoxy spreads far and wide. Even the thinnest of coats will relax and let brush strokes fall out. This coat promises to do as billed: when dry, I hope it could be mistaken for gelcoat.
Lowe's had no Valspar dove grey enamel this morning. I bought interior / exterior primer to try instead. It's light grey. At worst it'll make a good, uhm, primer. The 1.25-inch plastic seam tape (just black electricial tape) arrived in this morning's mail.
The weather forecast has begun to fall apart for painting. There's a slight chance of showers later this evening and a better chance each day for the rest of this week. I hurried up and applied the hull coat about four hours after I applied the red deck paint. I held a wide strip of poster board along the gunwales and directed the paint below it as I walked around the boat. The sky was a darker grey by the time I was done; the can was empty. The primer was said to dry to handle in one hour. In half an hour, I moved the boat onto the covered porch, just in case a "widely scattered shower" found the back yard.
September 16.
There are some too-thin spots in the deck coverage. By that, I mean there are spots I failed to cover adequately when I spread the paint. I used a disposable foam brush to touch up any spot that caught my eye during a patient walk around this morning. I should have tried foam brushes before. And now it's raining. That's not good news for the touchups. Let's see if humidity matters. Next: seam tape.
September 17.
Rainy weather just slowed the drying of the touched-up areas; they look fine a day later. With only rainy days in the forecast, I applied a fifth coat using a foam brush. It's yet another attempt to even everything out and to enjoy the easy feathering of the paint by the foam brush. The boat's drying in cool autumn weather on the covered porch.
Some non-paint-related maintenance: I removed the copper tube I rubber-cemented into the stern to hold a retractable skeg (more on that soon), put it on the lathe and knurled it, then put it back in place using epoxy putty. I had misgivings about leaving primer exposed to wear and tear, so I painted the left side of the hull with spray-on Rustoleum ("Smoke Grey"). A little darker than expected, but nice. I let that dry overnight, then turned the boat around to paint the other side. Fixing up a boat is like washing one spot on a wall: now that the rest of it is spiffy, I need to spruce up the seat and cockpit rim with white enamel or epoxy.
September 21.
Futzing around some, this and that, cleaning up the office, knocking off some short deadlines. All this while waiting for the rain to let up. Found the problem with the old orbital sander (there was this spacer that was supposed to go between the new sanding pad and the motor head; it had become so firmly attached to the old pad that I thought it was part of it; I removed it with the old pad; when I put the new pad on, the spacer was missing and the pad bound up with the sander body). Now the old guy works great; my apologies to Makita. Deadlines are upon me again: I tell myself I'm letting the paint cure, but I just don't have time to put it in the water!
October 3.
Launched at last! As a garbage scow for shoreline cleanup in a neighborhood effort.
October 8.
I rerigged the deck. I kept thinking I wanted to wax the boat first. And that I might want yet another touch-up coat before that. But enough already. I don't have any suitable wax handy, and I can wax the deck well enough under the shock-cords, and it sure as hell doesn't need more paint. None of the inevitable sleeks and scratches from river cleanup service last weekend went all the way through, so there's plenty of paint in place and it's strong. I put the seam tape on — it's just for looks — and then put some miles under the keel. It's half past time to spend some time messing about in boats rather than messing about with this boat.
October 9, 2009.
Painted, waxed, rigged. No more excuses.
Et Seq.
On the water GPS and snapshots.

Here's the older account, in case there are details you need to see, such as
"padeyes" that worked and paints that did NOT.

Throw me a line with comments or advice: davidcortner@pobox.com