These photographs were made with a Nikon D100 and an Astro-Physics 5-inch F6 refractor from an overlook above the Catawba River near Connelly's Springs, NC. See below. To see the Transit of Mercury on 2006 November 8: click here.
All photos ©2004, David Cortner, all rights reserved.
:: Home :: Email Contact: David Cortner.


Visitors are specifically permitted to use images on this site for wallpaper, personal screensavers, and for "door art" — you know the stuff: print it for your office door, hang it on your refrigerator, etc. For public display of these and other photographs, and for republication on the web and in print, please get in touch through the email link above.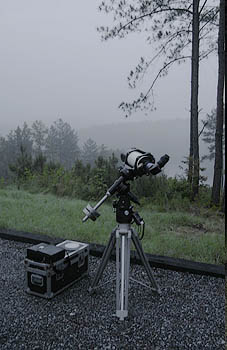 Waiting... fifteen minutes till sunrise. Fog down on the treetops, a threat of rain. The weather was drearier than this flash-assisted 1/2-second exposure might suggest. I wouldn't have bothered but for the thought that if James Cook would sail halfway around the world to see a transit, who am I not to get up early for the same opportunity? Just the same, I'm thinking it's a good thing I brought something to read.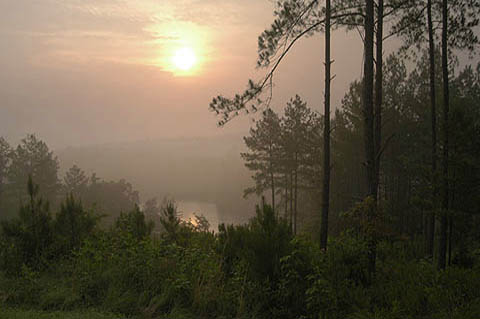 What a difference an hour makes. By the time I made this picture, all the photos above were "in the can," and the disk of Venus was crossing the Sun's limb. The Sun emerged about 6:30 with a ghostly Venus near the end of its transit. Timestamps applied by the camera show that the sky was clear enough for photography twice, and the two intervals totalled a little more than 12 minutes. This is about as clear as it ever got. Immediately after, the overcast became complete, and I did not see the Sun again all day. Nice timing!